Aussie pop singer/songwriter,Conrad Sewell is thrilled to announce his new US Summer North America Tour. The tour will start in June 12 in Los Angeles, CA and end in June 22 in Toronto, Canada. Tickets will be on sale at on Friday, April 19th at 12PM EST  and available at http://conradofficial.com/.
This tour is in support of his debut album "Life", to be released on May 17th. The album will feature his brand new single "Love Me Anyway," alongside previously released songs "Come Clean," "Changing," as well as his multi-platinum hits "Healing Hands" and "Start Again." Written and recorded over the last four years in Los Angeles, Sewell collaborated with GRAMMY Nominated music industry heavy weights including Jamie Hartman (Calvin Harris, James Bay, Kygo, Rag'N'Bone Man), Busbee (P!nk, Keith Urban, Kelly Clarkson) and Stuart Crichton (Elton John, Kesha, Kygo) to craft his debut album, Life.
Conrad says:"Excited to announce a very intimate run of shows through out the US. These songs from my debut album were all written on acoustic guitars and pianos so I only felt it was right I bring it to you for the first time how they were born in their purest form. These are going to be my first shows in the US in for awhile now and I couldn't be happier to share these special songs with you all."
Conrad US Summer Tour Dates
June 12 – Los Angeles, CA – The Mint
June 13 – San Francisco, CA – Café Du Nord
June 16 – Denver, CO – Globe Hall
June 18 – Chicago, IL – Subterranean
June 20  -New York, NY – Mercury Lounge
June 22 – Toronto, ON – Drake Hotel
Leah Kate is a New York City based artist whose music is a true embodiment of her IDGAF attitude. The left of center pop artist fuses her passion for creating relentlessly honest and relatable music with feel-good dance-worthy anthems. Leah Kate has been on a lifelong journey of confidence and self-identity. Having grown up in Los Angeles with a family in media and submerged in the entertainment industry, she found herself under enormous pressure. The songstress decided to escape, moving to New York City, where she discovered her creative fulfillment, flourishing into who she is today. The positive and determined young artist delivers listeners with her breathtakingly candid new releases. With each song rooted from some form of personal experience, Leah Kate tells a true story of a girl trying to figure it out alone like the rest of us. The six cutting-edge tracks, emit dark lyrics, swirling unexpected soundscapes and electronic pop elements, highlighting the ingenious songwriters use of innovative and charismatic songwriting.
Her leading single "WTF?" narrates the familiar story of being ghosted by a crush you were texting. These insecure and confused emotions are portrayed through the use of glossy electronic synths and vocal harmonies. Drenched in playful tones with an infectious chorus "WTF?" is a knockout pop hit. Leah Kate confides "I want to remind girls and anyone not to let someone make you think that YOU did something. Sometimes you have to make light of situations and know that it is not meant to be. Sometimes, you just have to laugh at situations and realize it's just your ego talking, you probably don't really give a fuck, be strong."
"Left With A Broken Heart" is a self-explanatory song, taking a very pessimistic view on love. Featuring brooding melodies and melancholy instrumentation the single evokes stunningly dark atmospheric pop. "So Good" represents Leah Kate's go-getter personality – she knows what she wants and she won't give up till she gets it. Sonically the single is an upbeat track with staccato beats and assured vocals.
Artist Julian Daniel returns with his brand new infectious single "Sidekick". On the single Julian says; "Have you ever just want to go back in time and redo everything you didn't do? My new single, "Sidekick," was inspired by high school relationships and the regrets that come with not following through on something you really wanted".
It's produced by Brandon Pero and Andrew Polychronopoulos, and is the introduction to Julian's debut EP due out later this year.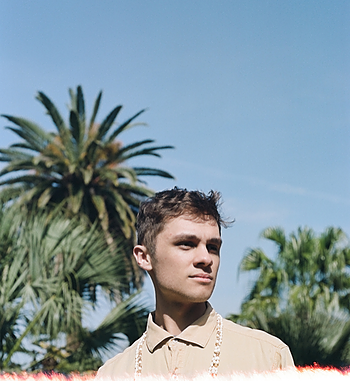 Meet soul/pop singer songwriter, Micah Manaitai. He unveil's his new single,"She Calls Me the Moon". On the track Micah explains, "I wrote this song in tribute to a connection with someone beyond romance, even friendship for that matter.  Its a loving relationship seated in respect, appreciation, and admiration. The love I'm talking about in the song is similar to the experience of a divine or unconditional love.  Its like the love expressed by a mother, grandmother, older sister, aunt, etc…Its familial but not necessarily by blood.  There's a lot of power in the 'she' pronoun and its relationship to that type of love and it was important for me to explore that."
Micah Manaitai writes music for the people who aren't sure which box to tick on their standardized forms. Born on Guam and raised in St. Louis, the 23 year-old artist, producer, and songwriter bridges the gap between two cultures that are equally important to him: that of the mainland and its oft-forgotten sibling island. Micah's most recent release, "Inner Voices" is a love song to his community and brings an unprecedented level of soul and emotional depth to this Chamoro classic. His reimagining of this beloved song is a deliberate attempt to bring "Inner Voices" to a younger, modern, and culturally dynamic generation on the island, while still paying respect to the brilliance of the original performance.
"Inner Voices" was featured on WeFoundNewMusic, Girl Underground Music, and Obscure Sound. The music video has received over 165k views across video platforms and 43k streams across streaming platforms. Micah was also asked to compose the score for the official welcome video at the first ever Guam History Museum that opened in April 2018. He opened for The Expendables at The Big Reggae Show on Guam and has been featured by Sofar LA, Tenants of the Trees, local instrument shop The Guitar Merchant, Republic of Pie, and by the dance collective The Gentle Ladies.
"Tell Death I Said What Up" is the new EP from Badlook that deals with near death encounters and the friends and family he's lost in the past few years. Somehow, he came out of it all unscathed, happy and ready to take on anything. These songs are dedicated to the fallen ones, and to those that are out here cheating death and killing themselves just to stay alive. On the EP he says;
"I wrote, produced, engineered and mixed the EP by myself. I kind of just holed up in my studio and powered through each track. Every word and note and drum hit almost seemed to write itself. These are always the best situations when you're creating; when your inspiration and your ability meet at a high point, you basically become unstoppable".
neillfrazer@hotmail.com